BabyStuffGifts.com Web Site Featuring Personalized Baby Gifts & Monogrammed Baby Clothes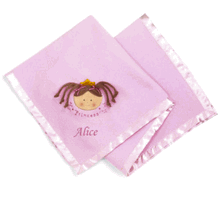 Chicago, IL (1888PressRelease) July 17, 2010 – BabyStuffGifts.com, a principal online retailer of specialty baby gifts, announced today the inclusion of monogrammed baby clothes, in addition to an exclusive collection of upscale gift baskets, baby shower gifts, hooded bath towels, personalized baby toys and dolls, customized so that each gift is a special, one-of-a-kind keepsake, sure to be treasured.
"Our goal is to provide customers upscale luxury baby gifts and toys, as well as beautifully embroidered nursery décor, such as our satin trim fleece crib blankets or our fine linen pillows" stated Nancilyn Gray Scott, founder of BabyStuffGifts.com. " The inclusion of our monogrammed baby clothes rounds out our charming collection of specialty gifts, providing customers with a wide range of high quality personalized baby gifts to choose from" Nancilyn concluded.
Offering gifts and clothes for infants from birth to 12 months of age, BabyStuffGifts.com features a multitude of items for every occasion and in every price range. In addition to a full line of exclusive personalized gifts for baby boy and girl, BabyStuffGifts.com offers a charming collection of monogrammed bibs and burp cloths, hooded bath towels, diaper covers, receiving blankets, bodysuits and gift sets, all embroidered with baby's initials.
BabyStuffGifts.com is also proud to feature one of the largest selections of personalized North American Bear plush toys, including best selling "Baby Cozies", "Little Princess" Dolls and Angels, "Sleepyhead" Bunnies and "Bears", all made of cuddly, soft velour.
Working under the principle that every baby is a special gift, BabyStuffGifts.com has created a wide selection of unique baby products such as personalized bucket hat gifts sets, baby's 1st birthday gifts, baby gift baskets, gifts for twins and much more. In addition, BabyStuffGifts.com offers a gift registry, corporate accounts, wholesale purchasing, and accepts product submissions from manufacturers and designers producing high quality baby products.
About BabyStuffGifts.com:
Every baby is a special gift and each one deserves only the very best. At BabyStuffGifts.com, our passion is to provide each precious baby with personalized baby gifts and monogrammed baby clothes, at sensible prices. Founded with a deep appreciation for finer quality items and sophisticated gift-giving, BabyStuffGifts.comoffers a distinctive selection of personalized baby toys direct to consumers. Shipping to both domestic and international destinations, BabyStuffGifts.cm manufactures most of its own products, which make special baby shower, birthday, holiday and all-occasion baby gifts. For more information, please visit www.babystuffgifts.com.