The Baby Gift Baskets – building the foundation to a perfect gift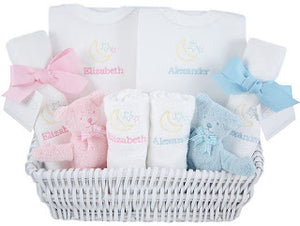 Santa's elves must have known the important of contents in making their presents. Here we understand this need as well. We have baskets to suit every need and every treasure trove of goodies. We consider the contents of every baskets and any themes that we want to convey in our work. Of course when discussing baskets we are going over any treasure chest that can be used to hold priceless goodies. We use baskets that come in many forms, sizes, and materials. We leave it up to the gift maker and choicer to decide the right one. We have big baskets that must be carried with two hands, and little ones that look perfect for egg hunting. Whatever size feels right for you is the right one. We like to give all our visitors the freedom to let their imagination run wild. Some of our baskets can be made out of straw or cane, making sure our materials are kept natural and pure for this type of basket. Or you can go for the cloth lined basket that can be used to hold the practical essential such as baby diapers, adorable bodysuits, and security blankets. In a few years' time this baskets practicality will not die. They be used a way to store small toys, goodies, and items. You might want a plastic bowl or bucket that offer easier mobility and strength against the element. Imagine a young toddler using it later when outside to play, or playing at the beach to make small sandcastles. They could even use to store their toys at home. We have little wagons for easy mobility at home and for a more creative gift basket. This basket is perhaps the best for easy storage and to be able to transport them around. Maybe for a pretend field trip among toys. Whatever the final decision, we make our baskets easy to customize so they are fully personalized and can be integrated into a new or expanding family's life.
That's why we create personalized baby baskets to congratulate them in their endeavors and in introducing their little one to the world. We want the moment to be special and treasured for years to come and give the parents a warm welcome wagon. Thanking them for the years of dedication and building of memories they will cultivate in the years to come. As our ancestors have done before us we come together to celebrate the breath of new life and wish them a journey that sails far to far fields of fortune. We wish that the little one may find kindness in all that they meet. That they bring love to the world and bring happiness. That they are loved in return until the end of their days. That they be guided every step of their way and kept safe from all harm. As good parents, we know that they will do just that.
Everyone love going the extra distance for their loved ones. That's why we have numerous opinion to personalize all our baby gift baskets. We walk you through the steps and choices of creating your beauty customized baby basket, with or without a bow at the top. Nothing will make this gift more personal than having a hand in all in big choices that are made in crafting and designed and arranging our baskets. We encourage all our visitors to create the baby basket of their dreams so they can better find the items that perfectly fit the new parents and new baby. Glow with pride as you present your customized basket that you filled with love and your special touch. Anyone who receives it will be able to understand and appreciate the consideration and affection that was given to the endeavor. And will realize the depth of sincerely in the gesture.