Top Gift Ideas You Can Gift At a Baby Shower Party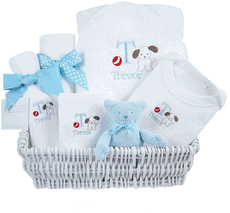 Are you going to have a baby and people ask you what want to gift? Or has a baby born in your environment and you want to give a gift? Well, I am helping with best baby gift ideas that your baby will love very much. You can also go with the Personalized Baby Gift Baskets for your baby girl or baby boy customized as per your needs.
Here is the list of the few most useful gifts to give to a baby whether it's a boy or a girl.
1. His first stories
If you like the idea of giving away books, consider making it the theme of the party. Ask guests to bring their favorite book with a dedicatory note. Make sure you place some soft cover in fabric books and other hard cover, so the baby will appreciate the sound and texture of the different materials.
This type of baby shower can work very well for those parents who already have everything they need for their future babies. Arrange a baby shower under the theme of "entertainment for baby" and present the music items, books and toddlers.
2. Backpack baby carrier
For a MOM or dad recently, this is one of the most practical ways to keep baby close. Love the baby staying well warm, glued to the body of their parents.
These backpacks design allows the arms of the Popes are free to do some things at home. In addition, they can go shopping while the little one stays comfortable and safe within the carrier or the Fanny Pack.
3.To exit to the street
If you are a MOM or dad (or even if you're not) you know that it is very normal to forget something while leaving the house. Help future parents to avoid oversights, giving them a diaper bag with everything you need to get out to the street with a baby:
A pair of diapers.
Wet wipes.
A change of clothing or two for the baby.
A couple of toys (the shakers and teething rings are perfect).
A pacifier.
A film or other gift for dads.
4. Everything for a perfect bathroom
One of the best options for a fun and practical gift is buy a tub and fill it with products to keep your baby clean and fresh. Here are some options:
Shampoo.
Very mild baby SOAP that does not irritate eyes or skin.
A sponge or cloth to clean it.
Towel with hood.
A duckling rubber that serve to measure the temperature of the water.
A brush and a comb of baby.
Some bath toys (even though babies do not play with them during the first few months).
A good bubble bath so MOM or Dad can enjoy moments of relaxation when the baby to sleep.
5. Wedge clothing
Adjustable soft sheets are a perfect addition to any child room. You'll find a variety of colors and designs, from the traditional pastel colors with figures of animals to the vibrant colors with geometric shapes. To any parent you family will be very useful to have more sheets to keep the always clean your baby crib.
A basket full of things to soothe your baby can help parents to relax a bit more in those first months of insomnia. Put in the basket a Nightlight, a soft blanket so MOM or Dad can keep baby warm while they cradle in her arms (remember to only use the cradle), and some relaxing music for babies.