Unique Baby Shower Gift Ideas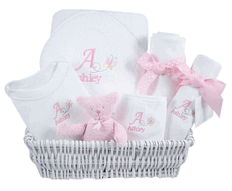 Baby shower gifts are a tradition that dates back to the 1900's where friends and family "shower" the mom-to-be with gifts before the arrival of her baby.
Early on in the tradition, many guests made the gifts, adding a personalized touch to each gift they gave. Today, gifts still have a personal touch but more and more people are opting to buy gifts and then have the gifts personalized, rather than make the gift themselves.
In fact, in these modern times we have been going back to the more primitive, organic way of life. This is why organic baby products such as certified organic cotton clothing, bedding, or even BPA free baby bottles are a huge hit as baby shower gifts.
Picture frames and scrap booking necessities are also a huge baby shower hit. These items arm the parents with everything they will need to show off their precious little one and keep each milestone and memory alive.
Nursery items such as Crib Fitted Sheets (a few orders of them), a comforter, bumper pads, a mobile, waterproof crib pads and mattress protector, and a blanket to swaddle the infant are all great gift choices. If you know the nursery room theme or color scheme, be sure to buy items that will match the decor of the room.
Stuffed animals and educational toys are also great gift picks. Personalized baby toys are available at many specialty stores and online baby gift stores. Remember, when it comes to toys and games think ahead—the baby will not be an infant forever; choose educational toys and games that are for ages 6 to 9 months and even 12 to 18 months.
If your budget allows, go with a more expensive but very useful for the parents-to-be gift such as a stroller, bassinet, baby dresser, baby changing table, baby car seat high chair, baby swing or bouncy seat. Often these are the types of gifts are acceptable to get as a group. Everyone chips in to purchase top of the line high-end gifts that are definitely much needed.
Bath items such as hooded towels, washcloths, baby lotion, shampoo, soap, baby brush, and bath toys are excellent items to group together in a baby gift basket—then the basket can be used by the mom in the future.
Do not forget the mom-to-be. A labor and delivery survival kit is a huge hit. On the baby shower invitations ask everyone to bring one item to contribute to the "Labor and Delivery Survival Kit". Some items are stop watch, slipper socks, headband, back massager, body lotion, lip balm, disposable camera, a contact list and of course a tote or bag large enough for all the goodies and a change of clothes. Think about after delivery as well. Include a gift certificate for a massage or manicure and pedicure at a local spa.
When trying to decide what to give as a baby shower gift, remember, personalized baby gifts add that extra touch and some are even passed on from generation to generation. It is truly wonderful to give a gift that you know will become a family heirloom.